China Uncensored
Suppressed News
Thursday, 05 August 2021 23:45
A Canadian, Patrick King was given a fine of CA$1200 for protesting against mandatory mask wearing and lockdowns in December 2020.
Mr. King then took his case to court....
Check out this interview to find out why King challenged the Queen and won!
Read more...
Real China
Saturday, 05 June 2021 12:50
(The brave PLA has crushed the unarmed students - photo courtesy of 64memo.com)
The Chinese Communist Party (CCP) regime has again banned the annual candlelight commemoration of the 1989 massacre of pro democracy activists and students on Tiananman...
Read more...
Global Stage
Saturday, 17 April 2021 11:06
What is the real story behind the Evergreen line ship 'Evergiven' that stopped hundreds of ships passing through the Suez Canal?
What make this "mission" so vitally important?
Here are a few real journalists at work....
Facts do not cease to exist because they are ignored.
--------------- Aldous Huxley
All this worldly wisdom was once the unamiable heresy of some wise man.
--------------- Henry David Thoreau
Real China
Wednesday, 03 March 2021 10:39
The ruling Chinese Communist Party (CCP) is launching a nationwide propaganda effort ahead of the centenary of the party's founding on July 1, lauding general secretary Xi Jinping's "victory" over poverty and ordering officials to watch patriotic TV shows.
An employee of the CCP's official newspaper, the People's Daily, told RFA on condition of anonymity that party newspapers in all localities were recently instructed to work together with the central propaganda department to plan...
Read more...
Real China
Wednesday, 20 January 2021 10:12
Dozens of Hong Kong residents fleeing a crackdown on public dissent and peaceful protest under a draconian national security law imposed on the city by Beijing since July 1, 2020 have applied for political asylum in Canada, with 14 applications already successful, an Alberta-based voluntary group has said.
The New Hong Kong Cultural Club Canada (NHKCC) said Canada had become the first country in the world to grant asylum to people fleeing arrest for their part...
Read more...
Global Stage
Tuesday, 29 December 2020 09:14
China and UN Alliance
https://www.bitchute.com/video/zzFRugqt06Vq/
Global Stage
Tuesday, 29 December 2020 07:51
On the morning of Christmas Day 2020, a van in front of the AT&T building in Nashville, broadcast a warning to evacuate from nearby buildings because of a coming explosion.
Who really planned this explosion?
https://www.bitchute.com/video/k8BoQM2vG6dx/
Global Stage
Thursday, 10 December 2020 15:48
Thursday, December 10th is World Human Rights Day.
At a meeting in Sydney, immigrants living in Australia - Tibetans, Uyghurs, Hong Kongers , Mongolians, Taiwanese, Falun Gong practitioners and like-minded Australians who respect the values of human rights and freedom, gathered to condemn the Chinese Communist Party (CCP) and to call for Australia to distance itself from the Chinese regime.
Many speakers told of...
Read more...
Global Stage
Saturday, 05 December 2020 17:32
In the fallout from the Nov. 3 election, numerous credible allegations of voting irregularities have arisen in the form of sworn affidavits and other evidence.
The infographic below by The Epoch Times provides an overview of some of the information currently known.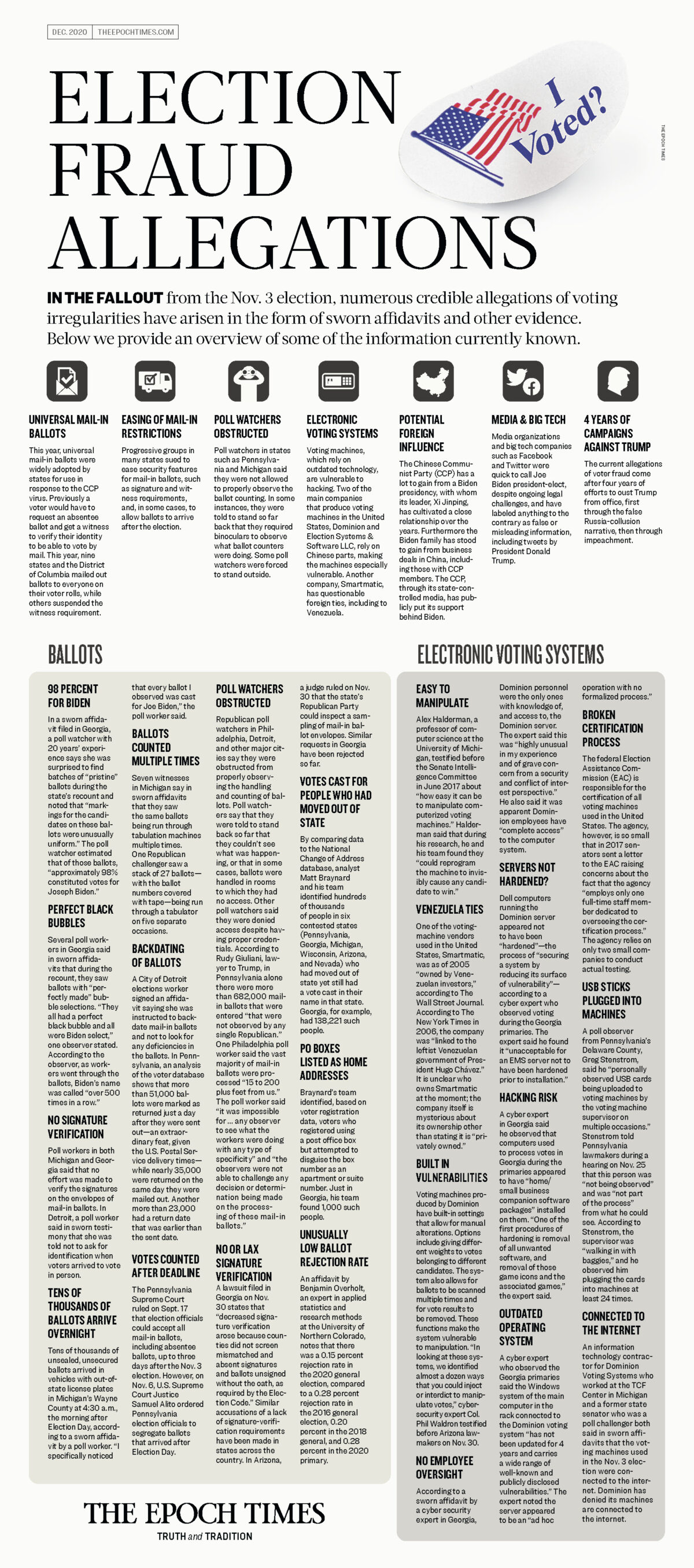 Global Stage
Friday, 04 December 2020 17:22
This is a transcript of a speech by Senator FIERRAVANTI-WELLS (New South Wales) in the Australian Senate on 30th November 2020.
It concerns the tabling of a suite of measures aimed at curtailing foreign interference in Australia.
It is particularly important in the light of one Australian state, Victoria, signing a Belt and Road agreement with China without consulting the Australian government.
The Chinese communist regime is...
Read more...
<<

Start

<

Prev

1

2 3 4 5 6 7 8 9 10 Next > End >>


Page 1 of 20